Facing higher health costs, employers get tough
By Tina Reed, author of Axios Vital
Published September 19, 2023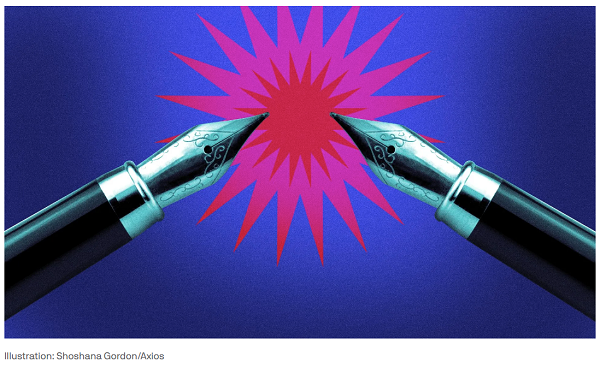 Employers girding themselves for an especially pricey health care benefits season this fall are pushing back harder in negotiations, armed with new price transparency data and emboldened by increased industry scrutiny.

Why it matters: Employers frustrated that they haven't been getting the best deals on health care are using the data to demand better terms in discussions with insurers and pharmacy benefit managers, industry experts said.
There have been some initial signs these strategies have been successful, but experts said it will take larger collective change among employers to generate more significant savings.
I think that's where we're heading is a much, much more enlightened market, particularly if we get reforms in Washington," Michael Thompson, CEO of the National Alliance of Healthcare Purchaser Coalitions, told Axios.
The big picture: Employers are facing the biggest annual increase in health care costs in a decade, according to Mercer. Two-thirds of the employer health insurance market is in self-insured plans, in which an employer is on the hook for some or all of workers' health care costs rather than an insurer, according to KFF.
However, they work with third parties — often well-known health insurance brands and pharmacy benefit managers — to administer their benefits.
Between the lines: Large self-insured employers over the past year have been able to examine insurers' negotiated rates with providers, thanks to federal price transparency rules. Congress, meanwhile, is looking at strengthening transparency requirements.
These employers are beginning to see that their own arrangements aren't always working to their benefit, said Rob Andrews, CEO of the Health Transformation Alliance, which includes member companies like Marriott, Coca-Cola and American Express.
"This is very early days of a sea change in the market where self-insured employers for the first time can benchmark their pricing," Andrews said.
For instance, he said, employers have found that many health insurance carriers privately negotiated better prices with health systems for their own Medicare Advantage plans compared to their self-insured employer customers.
Health insurers often can get more favorable prices from hospitals on MA patients because they promise to bring along self-insured employers at a higher rate, he said.
However, Thompson points out it's not always fair to compare MA plans to the commercial market because they may have different provider networks and benefit offerings.
Andrews estimates about 15% of member companies have begun to negotiate "best price" clauses into their contracts with insurers administering self-insured plans.

[READ FULL ARTICLE HERE]