Medical debt hits the middle class hardest
By Tami Luhby, CNN
Published August 21, 2023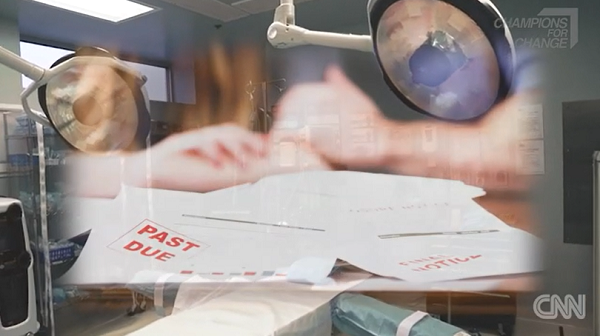 Almost a quarter of middle-class Americans, or 17 million people, had unpaid health care bills in 2020, a larger share than those higher and lower on the income scale, according to a new report from Third Way, a center-left think tank.

That compares with 22% of lower-income Americans and just under 13% of higher-income people, according to the report, which is based on US Census Bureau data.

Third Way defines middle class as a family of three earning between $50,000 and $100,000 annually, which it terms "the heart of the middle class."

Although the middle class has higher rates of good health insurance than lower-income Americans, the financial squeeze is exacerbated by several factors. Those in the middle class are less likely to avoid care because of cost but are also less likely to qualify for financial assistance and debt relief at some hospitals than those who earn less.

Plus, the middle class is also less likely than higher-income peers to have enough disposable funds to cover high deductibles and out-of-pocket costs.

"Medical debt hits families hard on many fronts," said David Kendall, senior fellow for health and fiscal policy at Third Way. "It makes it hard to get health care. It overwhelms their budgets. It can prevent them from getting a mortgage and building intergenerational wealth, especially for Black families."

Disparities by race

Black and Hispanic middle-class Americans are more likely to have unpaid health care bills than their White and Asian peers, Third Way found. Also, Black, Hispanic and Asian middle-class Americans have higher rates of medical debt than their lower-income counterparts.

Nearly 38% of Black and just over 25% of Hispanic middle-class people have medical debt, respectively. That compares with 20.4% of White and 16.6% of Asian middle-class people, respectively.

While middle-class college graduates have some medical debt, their share is far lower than those who did not go to or finish college. Some 16.5% of those with at least a bachelor's degree have unpaid medical bills, but more than a quarter of those with less education have health care debt.

Though senior citizens are more likely to have higher health care costs, they have lower rates of medical debt thanks to their Medicare coverage. Only 14.4% of those age 65 and over have unpaid medical bills, compared with more than a quarter of younger Americans.

Addressing medical debt

High health care costs have long been one of Americans' biggest financial headaches.

More attention is now being paid to the issue of medical debt. Last month, the Consumer Financial Protection Bureau, the US Department of Health and Human Services and the US Department of Treasury launched an inquiry into medical credit cards and other specialty financial products that can leave patients with high costs and debt burdens.