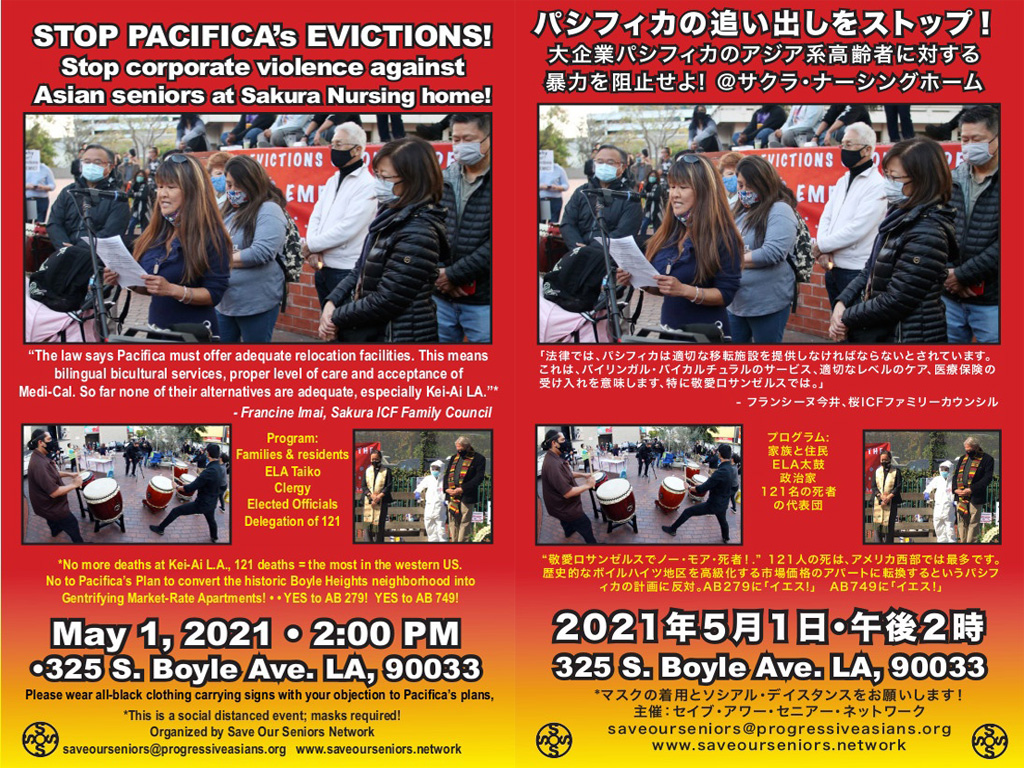 Save Our Senior Citizens
135
135 people viewed this event.
This event is being held to bring attention to the continued efforts of Pacifica Companies to coerce Japanese American and Japanese seniors aged mostly from their 90's to 100's out of the safety of their Sakura ICF home so that Pacifica Companies can realize their desire to transform the facility into high-rental income property.
With total disregard for the health of these already frail seniors, ignoring the calls by multiple physicians to cease the endangerment of the residents and ignoring the rejection of their evictions proposal by the California and Los Angeles County Departments of Public Health and numerous elected officials, Pacifica Companies continues to intimidate the residents into moving out against their wishes. They have also resorted to dirty tactics to degrade the quality of life for the residents, such as in acting slowly to fix a lack of hot water and water pressure, addressing a mold problem and now, reportedly a potentially deadly degradation in food quality. The Sakura ICF families and SOS Network have been receiving assistance from the office of Hilda Solis, District 1 of the LA County Board of Supervisors to get LA County Health Facilities Inspection Division (HFID) to address these concerns, with some success over the hot water issue, but the others are still withstanding and frighteningly, patient health is declining.
Pacifica Companies, operating in tandem with the powerful for-profit lobby, California Association of Health Facilities (CAHF) is desperately trying to force residents out of the building before the passage of Assembly Bill 279 (now in the Assembly Appropriations Committee pending advancement to a floor vote).