Is California giving reparations for slavery?
(CA slavery reparations task force recommends among other policies for restitution for and non-repetition of harms of chattel slavery of African Americans: "Adopt universal single-payer healthcare coverage and a healthcare cost control system.")
By Taryn Luna (Staff Writer)
MAY 6, 2023 7:37 PM PT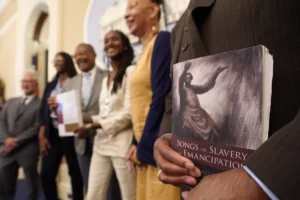 Amos C. Brown Jr., vice chair of the California Reparations Task Force, right, holds a copy of "Songs of Slavery and Emancipation" during a group photo at the Capitol in Sacramento in June. (Rich Pedroncelli / Associated Press)

What is the task force recommending?

A draft of the final report recommends "a range of policies needed to guarantee restitution, compensation, rehabilitation, satisfaction, and non-repetition," included, but not limited to:

Repeal or amend Proposition 209, a measure approved by California voters that banned affirmative action in 1996.
Analyze laws, policies and ordinances from the local to the state level for racial impact prior to passage and after implementation.
Amend the California Constitution to prohibit involuntary servitude.
Pay fair market value for jail and prison labor.
Abolish the death penalty.
Fund community wellness centers in African American communities.
Strengthen the Bane Act by eliminating the requirement that a victim of police violence show that the officer "specifically intended" to commit misconduct.
Declare election day a paid state holiday.
Restore voting rights to all formerly and currently incarcerated people.
Implement rent caps for historically redlined ZIP Codes.
Increase grants and financial assistance to improve homeownership rates among African Americans, including subsidized down payments and mortgage payments to those who reside in formerly redlined neighborhoods
Allow descendants who reside in formerly redlined neighborhoods to transfer the assessed value of their primary home to a newly purchased or constructed primary residence.
Provide free college tuition for all California residents eligible for monetary reparations.
Build more parks in African American communities.
Identify and remove Confederate monuments, markers and memorials.
Create a guaranteed income program for descendants of an enslaved person.
Automatically increase minimum wage on a regular basis to adjust for increases to the cost of living, including inflation.
Provide interest-free loans to owners of small businesses in African American commercial areas.
End the cash bail system.
Repeal the "three strikes" law.
Adopt universal single-payer healthcare coverage and a healthcare cost control system.
Increase Medi-Cal reimbursement rates to match reimbursement rates of private insurance.

What's next?

The task force meets one last time in Sacramento on June 29 before sending its recommendations to the Legislature. Two lawmakers who sit on the task force, state Sen. Steven Bradford (D-Gardena) and Assemblyman Reginald Jones-Sawyer (D-Los Angeles), are expected to lead efforts to convince their fellow lawmakers to provide reparations.

[READ FULL ARTICLE HERE]