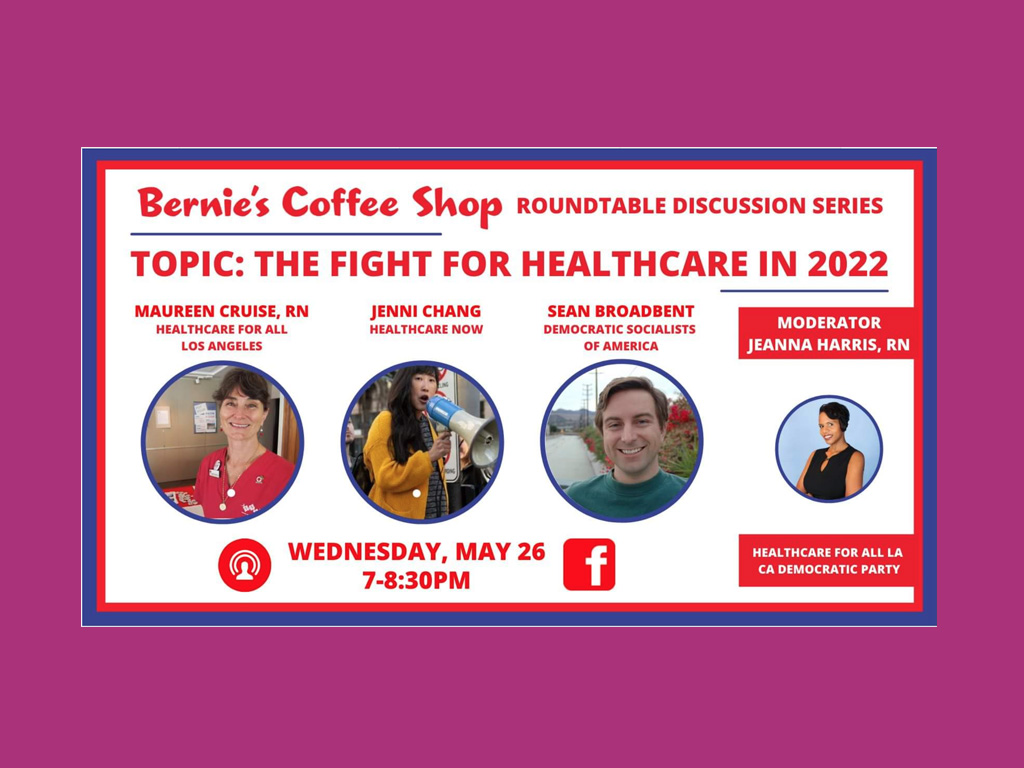 The Fight for Healthcare 2022-Roundtable Series
175
175 people viewed this event.
Bernie's Coffee Shop invites you to join us for the first event in our new virtual roundtable series! The coffee shop team will be bringing you discussions on important topics via Facebook live over the next several months!
On Wednesday, we will be discussing what comes next in the fight for healthcare now that AB 1400 has been tabled. Find out from some of California's most dedicated healthcare justice activists. There is still more work to do!  We invite you to send your questions for the panelists in ahead of time! You can post them in the event page, message our inbox, or email them to berniescoffeeshop@gmail.com.
PANELISTS:
MAUREEN CRUISE, RN RN is a former research associate at UCLA's Neuropsychiatric Institute and a former public health clinic nurse with the LA County Dept. Health Services.
JENNI CHANG is a mother and a delegate of the California Democratic Party. She was the regional coordinator of Los Angeles for the Healthy California Campaign, the coalition behind the state single payer bill SB 562.
SEAN BROADBENT has been active for single-payer healthcare since becoming a volunteer community organizer with National Nurses United in 2019.
JEANNA HARRIS is a registered nurse who believes in inspiring people, educating the community, advocating for those who can't advocate for themselves, and activating the masses to mobilize and change the world.