The Hidden Fee Costing Doctors Millions Every Year
by Cezary Podkul
August 14, 2023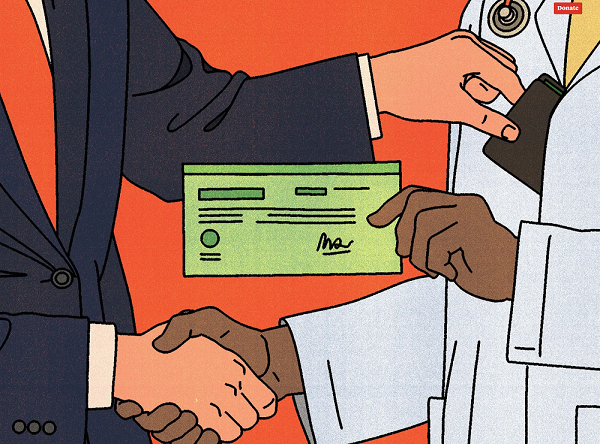 A powerful lobbyist convinced a federal agency that doctors can be forced to pay fees on money that health insurers owe them. Big companies rake in profits while doctors are saddled with yet another cost in a burdensome health care system.

It was a multibillion-dollar strike, so stealthy and precise that the only visible sign was a notice that suddenly vanished from a government website.

In August 2017, a federal agency with sweeping powers over the health care industry posted a notice informing insurance companies that they weren't allowed to charge physicians a fee when the companies paid the doctors for their work. Six months later, that statement disappeared without explanation.

The vanishing notice was the result of a behind-the-scenes campaign by the insurance industry and its middlemen that has largely escaped public notice — but that has had massive financial consequences that have rippled through the health care universe. The insurers' invisible victory has tightened the financial vise on doctors and hospitals, nurtured a thriving industry of middlemen and allowed health insurers to do something no other industry does: Take one last cut even as it pays its bills.

Insurers now routinely require doctors to kick back as much as 5% if they want to be paid electronically. Even when physicians ask to be paid by check, doctors say, insurers often resume the electronic payments — and the fees — against their wishes. Despite protests from doctors and hospitals, the insurers and their middlemen refuse to back down.

There are plenty of reasons doctors are furious with the insurance industry. Insurers have slashed their reimbursement rates, cost them patients by excluding them from their provider networks, and forced them to spend extra time seeking pre-authorizations for ever more procedures and battling denials of coverage.

Paying fees to get paid is the final blow for some. "All these additional fees are the reason why you see small practices folding up on a regular basis, or at least contributing to it," said Dr. Terence Gray, an anesthesiologist in Scarborough, Maine. Some medical clinics told ProPublica they are seeking ways to raise their rates in response to the fees, which would pass the costs on to patients.

"It's ridiculous," said Karen Jackson, who until her retirement in March was a veteran senior official at the Centers for Medicare & Medicaid Services, the federal agency that posted, then unposted, the fee notice. Doctors, she said, shouldn't have to pay fees to get paid.

But that's precisely what's happening. Almost 60% of medical practices said they were compelled to pay fees for electronic payment at least some of the time, according to a 2021 survey. And the frequency has increased since then, according to medical clinics. With more than $2 trillion in medical claims being paid electronically each year, these fees likely add up to billions of dollars annually.

Huge sums that could be spent on care are instead being siphoned off to insurers and middlemen. The fees can cost larger medical practices $1 million a year, according to an April poll by the Medical Group Management Association, which represents private medical practices. The figure sometimes runs even higher, according to a 2020 complaint to CMS from a senior executive of AdventHealth, which has 53 hospitals in nine states: "I have to pay $1.8M in expenses that I could use on PPE for our employees, or setting up testing sites, or providing charity care, or covering other community benefits." Most clinics are smaller, and they estimated annual losses of $100,000 or less. Even that figure is more than enough to cover the salary of a registered nurse.