10 Things to Know About Medicaid Managed Care
By Elizabeth Hinton and Jada Raphael
March 1, 2023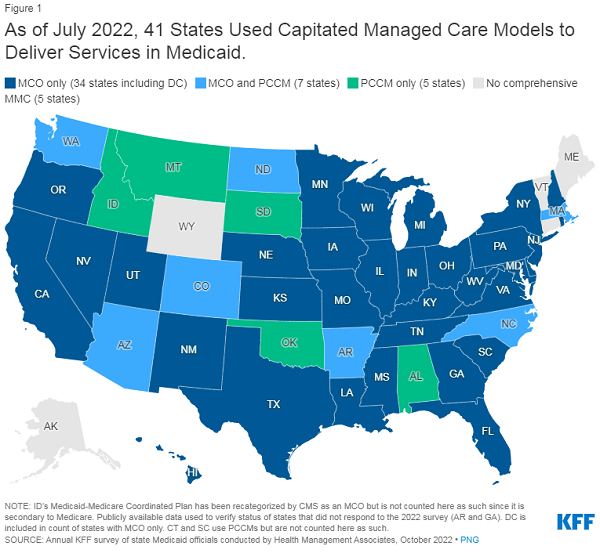 Managed care is the dominant delivery system for Medicaid enrollees. With 72% of Medicaid beneficiaries enrolled in comprehensive managed care organizations (MCOs) nationally, plans have played a key role in responding to the COVID-19 pandemic and are expected to work with states in conducting outreach and providing support to enrollees during the unwinding of the continuous enrollment requirement. While managed care is the dominant Medicaid delivery system, states decide which populations and services to include in managed care arrangements which leads to considerable variation across states. Additionally, while we can track state requirements for Medicaid managed care plans, plans have flexibility in certain areas including in setting provider payment rates and plans may choose to offer additional benefits beyond those required by the state. The Administration is expected to release revised regulations about Medicaid managed care and assuring access in Medicaid in the Spring of 2023. This brief describes 10 themes related to the use of comprehensive, risk-based managed care in the Medicaid program.

1. Today, capitated managed care is the dominant way in which states deliver services to Medicaid enrollees.
States design and administer their own Medicaid programs within federal rules. States determine how they will deliver and pay for care for Medicaid beneficiaries. Nearly all states have some form of managed care in place – comprehensive risk-based managed care and/or primary care case management (PCCM) programs.1,2 As of July 2022, 41 states (including DC) contract with comprehensive, risk-based managed care plans to provide care to at least some of their Medicaid beneficiaries (Figure 1). Beginning July 1, 2021, North Carolina implemented its first MCO program, enrolling more than 1.8 million Medicaid beneficiaries in MCOs as of January 2023. Oklahoma expects to implement capitated, comprehensive Medicaid managed care in October 2023. Medicaid MCOs provide comprehensive acute care and, in some cases, long-term services and supports to Medicaid beneficiaries and are paid a set per member per month payment for these services. States have traditionally used managed care models to increase budget predictability, constrain Medicaid spending, and improve access to care and value. While the shift to MCOs has increased budget predictability for states, the evidence about the impact of managed care on access to care and costs is both limited and mixed.3,4,5

2. More than two-thirds (72%) of all Medicaid beneficiaries received their care through comprehensive risk-based MCOs.
As of July 2020, 57 million Medicaid enrollees received their care through risk-based MCOs. Twenty-eight MCO states covered more than 75% of Medicaid beneficiaries in MCOs (Figure 2).

Although 2020 data (displayed above) are the most current national data available, enrollment in Medicaid overall has grown substantially since the start of the coronavirus pandemic, resulting in growth in MCO enrollment as well. Enrollment growth has been primarily attributed to the Families First Coronavirus Response Act (FFCRA) provision that required states to ensure continuous enrollment for Medicaid enrollees in exchange for a temporary increase in the Medicaid match rate. The Consolidated Appropriations Act, 2023 ends the continuous enrollment provision and allows states to resume disenrollments starting April 1, 2023. While the number of Medicaid enrollees who may be disenrolled during the unwinding period is highly uncertain, it is estimated that millions will lose coverage. CMS has released guidance and strategies for states to help maintain coverage of eligible individuals after the end of continuous enrollment requirements, including guidance outlining how managed care plans can support states in promoting continuity of coverage.

3. Children and adults are more likely to be enrolled in MCOs than adults ages 65+ and people eligible through disability; however, states are increasingly including beneficiaries with complex needs in MCOs.
As of July 2022, 36 MCO states reported covering 75% or more of all children through MCOs (Figure 3). Of the 39 states that had implemented the ACA Medicaid expansion as of July 2022, 32 states were using MCOs to cover newly eligible adults and most covered more than 75% of beneficiaries in this group through MCOs. Thirty-five MCO states reported covering 75% or more of low-income adults in pre-ACA expansion groups (e.g., parents, pregnant women) through MCOs. Only 16 MCO states reported coverage of 75% or more of adults ages 65+ and people eligible through disability. Although this group is still less likely to be enrolled in MCOs than children and adults, over time, states have been moving to include adults ages 65+ and people eligible through disability in MCOs.