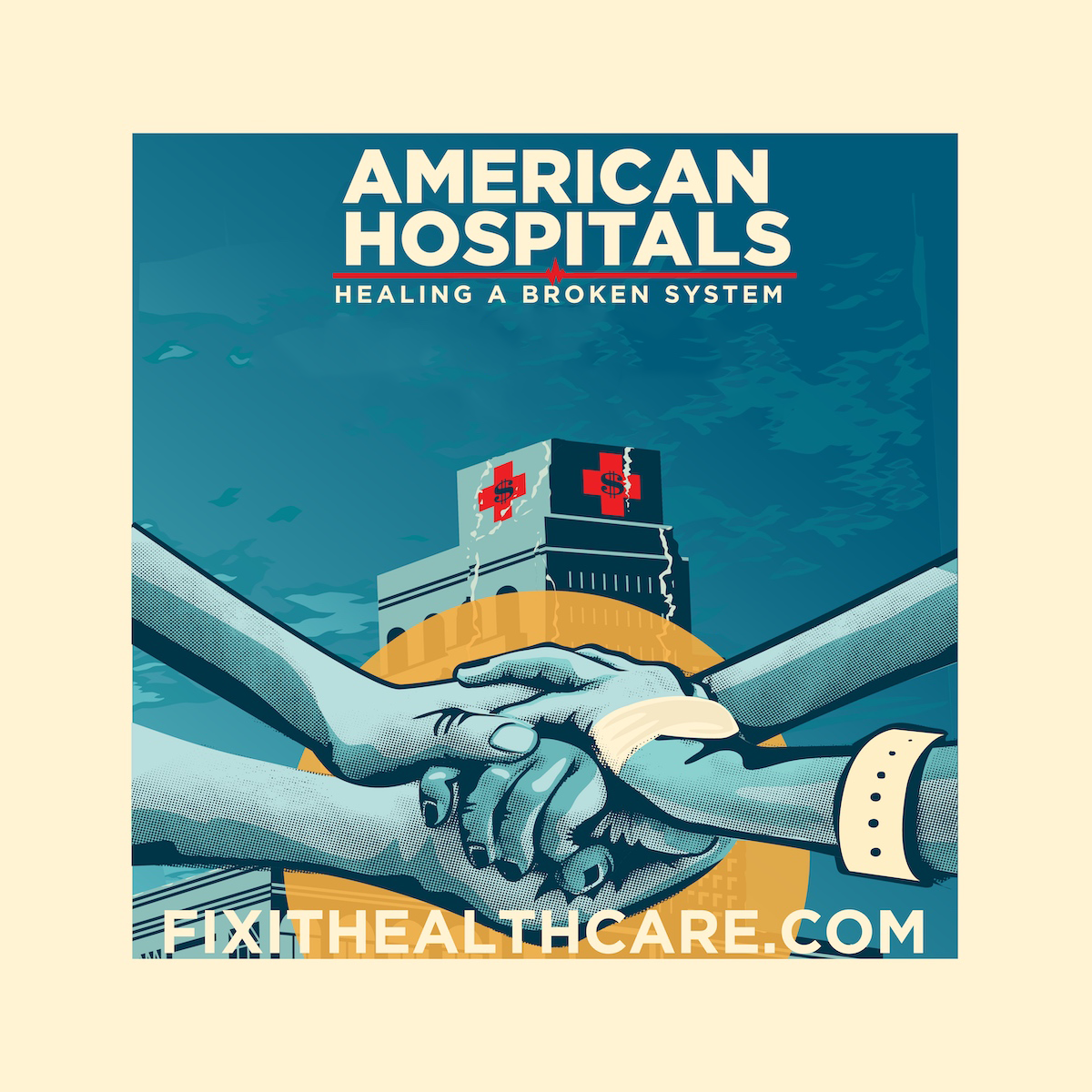 "American Hospital: Healing a Broken System" Screening and Panel
136
136 people viewed this event.
Topanga Peace Alliance and Health Care for US Present:

"American Hospital: Healing a Broken System" Screening and Panel
Date and time:
Friday, June 2nd
Zoom Opens at 7:15 pm, Program at 7:30 pm Pacific Time

Zoom Link:
https://us02web.zoom.us/j/86311256046?pwd=VFFIdGl2QmN0ZExVL3hCMWdiamE1UT09
Meeting ID: 863 1125 6046
Passcode: Peace2022

Event Link:
https://www.facebook.com/events/132358496475636

Event Details:
Join us for a special First Friday Film Night screening of "American Hospital, Healing a Broken System," as we delve into the depths of our nation's health care challenges and see innovative solutions that could help provide fair and equitable access to medical care.

Get ready to be inspired following the screening by our esteemed panel of speakers. We have the privilege of hosting Maureen Cruise RN, a tireless advocate for single payer health care in California for over 20 years. Joining her is Greg Akili, a seasoned labor, community organizer, and political leader with a remarkable 50-year track record. And last but not least, we have Tsukuru Fors (he/they), a founder of CalRedBerets and Red Berets for Queers, vibrant grassroots coalitions of craftivists fighting for Medicare for All. Together, they will shed light on CalCare, the California single payer legislation, its potential to address the pressing issues highlighted in our film and lead us on actions to help California realize the goal of single payer healthcare for all.

In the United States, healthcare has become a force that dominates our economy, exerting an unsustainable stranglehold on our nation's finances. Its out-of-control growth far outpaces the progress of our economy, with hospitals alone consuming a staggering one-third of the $4.5 trillion Americans will spend on healthcare this year. Surprisingly, this surpasses the amount spent on prescription drugs by threefold. You will see why it's time to shine a spotlight on the hospital industry, hold them accountable for their financial practices, and demand transparency and responsible access.

In the film, you will witness the transformation of American hospitals as it exposes the disturbing grip of profit-driven motives on patient well-being and community health. "American Hospitals" explores the dark realities of exorbitant pricing, monopolistic practices, and the gaping disparities in access and treatment. Prepare to be captivated by the film's revelations and embark on a journey toward restoring hospitals to their rightful place as pillars of affordable, community-focused care.

Don't miss out on this event that reaches for a bold change in the future of healthcare in America. Mark your calendars for Friday, June 2, at 7:15 pm Pacific Time, and join us on Zoom for an evening of information sharing and empowerment. Remember to turn on your camera to connect with like-minded activists who share your passion. Additionally, we'll be making announcements about upcoming events and actions you can take to make a tangible difference in our healthcare system.

Zoom doors swing open at 7:15, and the main event kicks off promptly at 7:30. Prepare to be engaged, inspired, and part of a meaningful conversation that will leave you energized. This is an extraordinary opportunity you don't want to miss!

Our panelists will be:

Maureen Cruise RN, who has advocated for single payer health care in CA for 20 years. She is a former LA County public health clinic nurse and is the current CoChair of Health Care for US, an all-volunteer organization working every day to bring healthcare justice to everyone in CA.
Greg Akili, who has dedicated his life to social and racial justice and is currently running for the 57th Assembly District in the State of California. He has over 50-years of experience as a community organizer, labor and political leader. Akili is also recognized as a co-founder of the United Domestic Workers Union.

Tsukuru Fors (he/they) is a founder of CalRedBerets and Red Berets for Queers. Red Berets for Medicare for All is a nationwide coalition of healthcare justice "craftivists" whose aim is to democratize activism through the use of arts and crafts and to maximize civic participation for social change. Being a graduate of a high school in Hiroshima where 350 young lives were perished by the A-bomb, he is a long-time anti-nuclear activist and transgender rights activist as well.