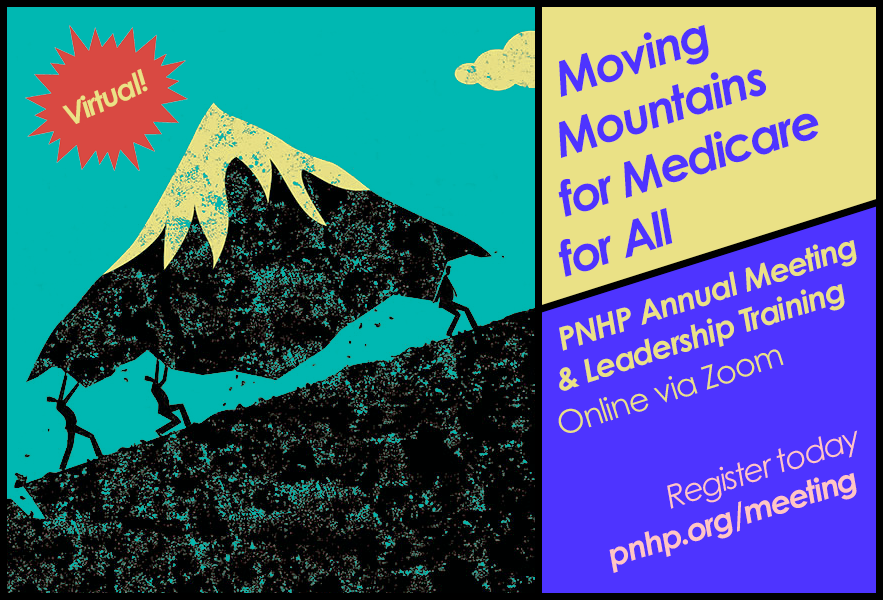 PNHP Annual Meeting, Oct. 22-23
67
67 people viewed this event.
October 22-23, 2021
This year's meeting will take place virtually, via Zoom.
Annual Meeting agenda:
Friday, Oct. 22
8:00-9:00 p.m. ET:

Labor leader

Jose La Luz

discusses the role of workers in the Medicare-for-All movement with PNHP board member

Dr. Scott Goldberg

and PNHP national coordinator

Dr. Claudia Fegan

. 

9:00-9:30 p.m. ET

: Medicare for All on Capitol Hill: A panel of legislative experts will provide the latest updates from Capitol Hill and discuss the current political landscape for Medicare for All. 
Saturday, Oct. 23
11:00 a.m. – 12:00 p.m. ET:

Health policy and data update from PNHP's immediate past president

Dr. Adam Gaffney

12:30-1:30 p.m. ET:

Panel: "The Future of Medicare for All Physician Activism."

Dr. Abdul El-Sayed

, co-author of "Medicare for All: A Citizen's Guide," will speak on the future of physician activism, and PNHP board member

Dr. Phil Verhoef

will discuss strategies and priorities for the coming year, including medical society resolutions, fighting Medicare privatization, and recruiting more physicians into the movement. 

2:00-3:00 p.m. ET

: Keynote address from

Dr. Rupa Marya

 
PNHP members from across the country will gather online for two days of speakers, panel discussions, policy updates, single-payer strategizing, and opportunities to confer with like-minded colleagues.
We will also host a week's worth of skill-building sessions (evenings) and pre-recorded workshops on timely subjects related to health care justice (midday) leading up to the live sessions.
Registering as a student or resident? Please select the FREE registration option. Looking to support the future of our movement? Choose the "sponsor a student" option to help us open registration to all medical and health professional students who wish to attend.
Online pre-registration for the 2021 meeting will remain open through Oct. 21.